BIG ON QUALITY, BIG ON SERVICE
Big Print Signs is a leading company in digital printing and custom print applications. Our commitment is to produce high-quality digital prints that withstand the test of time. Whether you need small decals or full building wraps, our state-of-the-art printing technology enables us to produce high-resolution signs with vibrant colors and sharp graphics that will catch the eye of any passerby. We work collaboratively with you from the initial design phase to the final installation to ensure that your signs exceed your expectations. Get Started today!
DESIGN AND CONSULTATION
We understand the importance of capturing your vision and goals. Our experienced team works closely with you to bring your ideas to life, producing a design that you can feel proud of.
PROJECT MANAGEMENT
For larger projects, our project management team coordinates all the moving parts, including approvals and timelines, to ensure your project is delivered on time and exactly as envisioned.
SITE PLANNING & INSPECTION
Before installation, we conduct a site inspection survey to confirm measurements, flag any issues and guarantee that the design will work in its intended environment.
SHIPPING & LOGISTICS
Big Print Signs offers worldwide shipping options with multiple carriers for your convenience. Whether you're local or abroad, we'll make sure you receive your products when and where you need them.
If you can dream it,
we can make it.
Artwork & Unique Projects
Show off your photography in a beautiful way! We offer canvas prints, rear-mounted acrylics and aluminum art boxes. Our large format printing capabilities allow us to produce life-size art on a variety of mediums at a range of sizes, all while remaining high quality pieces.
LEARN MORE
Awards & Specialty Plaques
Looking for a unique way to showcase your event, company, or appreciation to your employees – we offer custom made plaques and awards. Big Print Signs uses high-quality printing, acrylics, and substrates to create plaques and awards that are unique to you.
LEARN MORE
Dimensional Letters & Sculptured Signs
Big Print Signs has years of experience creating outdoor and indoor signs for municipal, corporate, retail, restaurant, and residential purposes. Many of our signage projects are still around over 25 years later!
Throughout the fabrication process, our experienced team can help you design the perfect sign installation for your application. We install many types of material or structures to ensure that your sign will stand the test of time.
LEARN MORE
Film & Television Projects
We love the Alberta Film Industry and have proudly worked alongside many production companies to create iconic vehicles, background graphics and three-dimensional elements you may recognize in television shows and blockbuster movies!
LEARN MORE
Fleet & Equipment Wrap
Big Print Signs can decal or wrap all sorts of equipment and vehicles. From planes, trains and automobiles to generators, oilfield equipment and gasoline pumps. There's no wrap too complicated for our install team.
We use various high-end materials such as 3M, Avery and Hexis to protect your vehicles and equipment or showcase your company brand.
From concept to design and production to installation, Big Print Signs is there every step of the way to ensure every decal and wrap project is as seamless as the end result.
LEARN MORE
Large Format Banners
If you need your message or name to stand out in a BIG WAY, Big Print's large format banner printing services have you covered.
Perfect for corporate and sports events, retail and trade show displays, our highly trained team will help you select the best option, even if that's a full building wrap.
LEARN MORE
Presentation Centres
Whether you're an independent home builder or a multi-national land development company, Big Print Signs can design and customize any presentation sales center with a wide variety of printed products.
Showcase products for potential home buyers with wall graphics, floor plan displays, banners, flags, exterior graphics and more. From decorating permanent building structures, mobile office units, to sea-can structures our presentation team can handle it all.
We don't just design and fabricate, we install as well! We've worked with some of the most premiere land development and construction companies throughout western Canada to create sales centres that convert customers into home buyers!
LEARN MORE
Privacy & Window Vinyl
Whether you're looking to showcase an eye-catching style for your windows, advertise, or if you need some privacy to complete blackout, we've got your windows covered.
We also offer full colour printed frosted film and specialty printed optically clear film to reinvent the look of any space without blocking out the light.
LEARN MORE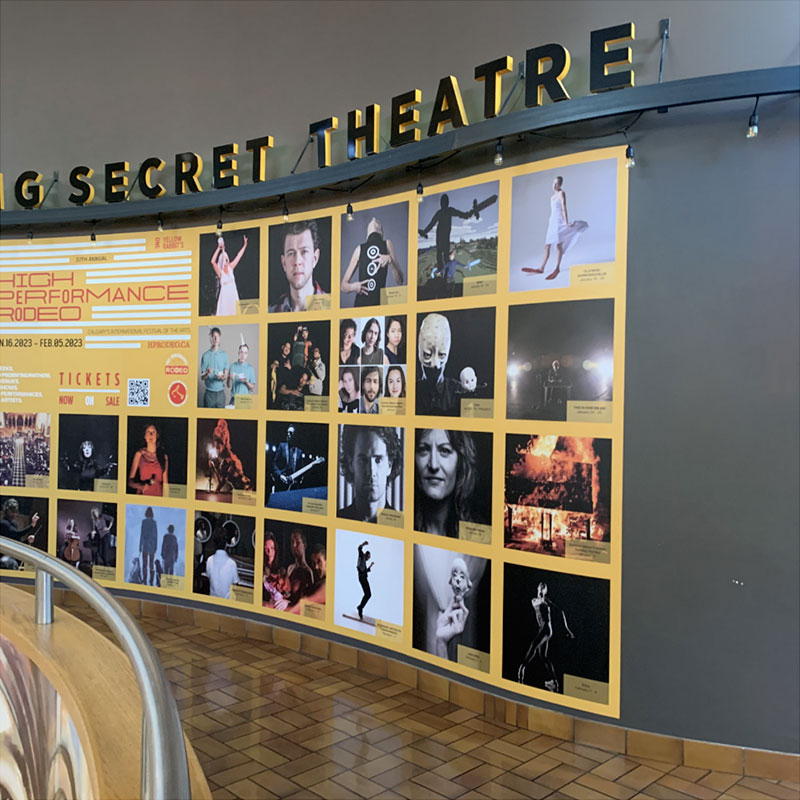 Wall Graphics & Hoarding
Big Print Signs can cover any interior or exterior wall with vibrant prints and durable materials that will last a lifetime. From printed artwork and photos to branded signage, we can install coverings on any surface.
Whether you need a single 8ft x 4ft panel sign or continuous graphics spanning as long and as high as you need, we'll ensure that your brand will be displayed with the highest quality and durability at the forefront. Our smooth or textured finishes will fit your needs perfectly. With certified and experienced installers, the end result is guaranteed to live up to your expectations.
LEARN MORE
Wayfinding & Informational Signage
Make your office or retail space easier to navigate with Wayfinding signage. We offer many types of signage including three dimensional, cut vinyl and floor graphics. We can even create custom signs for your indoor or outdoor needs.
LEARN MORE
let's bring your ideas to life.